When we think about our ancestors, we often think of them as being very prudish. We think that sex was not something they did for fun, but instead, just out of necessity, for creating families. Well, that wasn't always the case, and we're certainly not the first generation to have discovered pornography. Over the years, archaeologists have made some interesting discoveries that cast a light on human sexuality and how societies perceived it. It might surprise you that the depiction of pornographic materials goes back not just several hundred years back, but thousands of years as well.
Paleolithic Era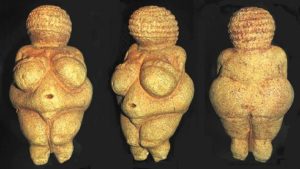 Even 30 centuries ago humans were interested in erotic content. People from the Paleolithic era loved carving female figurines with large breasts and thick thighs out of stone and wood. The "Venus figurines", as they are known as today, are thought to be fertility symbols or religious icons, rather than something intended for sexual arousal. However, this does show that humans have always been comfortable with nudity, and not as prudent as we like to imagine them as.
Ancient China
Even before the invention of paper, people wanted to document various pornographic content, and one such example is found in China. In the late 1980s, archaeologist Wang Binghua found a stone carving that showed a fertility ritual, with around 100 different figures that were dancing and performing different sex acts. Officially, the carving is referred to as the Kangjiashimenji Petroglyphs, and archeologists believe that the carving was created sometime around 1000 BC.
The purpose of these carvings is not quite clear. Some experts say that they served as a way to commemorate and honor the ritual of fertility, while others say it didn't have any special purpose other than simply displaying pornographic content.
India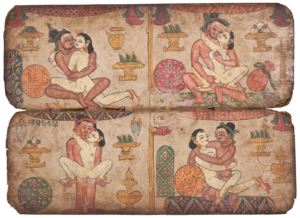 One of the most famous ancient texts that deal with human sexual behavior is certainly the Kama Sutra. The exact time when it was written is not known; it's thought to have been written sometime between 400 BC and 200 CE. Historians are not sure of the precise time because the books itself is thought to be a compendium, with many different authors contributing to it. However, experts do agree that Kama Sutra, in its current state, was finally compiled in the second century. Today, Kama Sutra is considered by many to be the standard work on human sexual behavior in Sanskrit literature.
Brazil
Another interesting discovery regarding human sexuality was made in Brazil, back in 2012. Namely, archeologists found a carving that depicted a man showing his penis that's roughly the same size as one of his arms. It's believed that the carving is around 11,000 years old, and possibly one of the earliest carvings that show man in the Americas. And not only that; near the same area, archeologists found similar scenes. These depicted men with oversized penises, as well as pregnant women, including carvings that show childbirth. Again, experts are not quite sure of the reason these carvings were created in the first place. It could have been associated with some kind of fertility rite, or it could simply be some form of early pornography. It could also mean that the carvings served as something to look at for pleasure for the men and women of the time.
Over the centuries, human sexuality has been influencing art as well. We know of many paintings that depict nude men and women, whether it is an idealized depiction of beauty or a more realistic depiction, with all the flaws and qualities of the human body. And looking back into history, we can see that sexuality has always been an important part of people's daily lives. Different cultures may have different interpretations of sexuality, but one thing in common for all of them is that they have depicted it through works of art, giving the future generations an interesting insight into their lives.